Early 4D gender Scans near Bolton
Are you looking for a baby scanning service near Bolton? At My Baby Company, we offer baby scanning services from as early as 10 weeks at our stunning Chorley and Manchester based boutiques! Our qualified and friendly Ultrasound Technicians' aim to provide you with a truly unforgettable experience, bringing your baby to life on our 55 inch TV screens in the comfort of our luxury spa themed lounges.
If you can't wait to find out the sex of your baby, we offer gender scanning services from as early as 16 weeks, however we also offer a wide selection of accredited NIPT services from as early as 10 weeks, which includes complimentary gender identification.
We offer 2D early pregnancy scans from 10 weeks through to our more extensive 3D/4D HD live bonding scans which are available from 16 weeks to 32 weeks.
Get in touch with My Baby Company for private scans near Bolton
With My Baby Company we offer a number of gender scanning services near Bolton – so you can find out your baby's gender, sooner than you think! Under our professional care, you will experience your very own private 'window to the womb', allowing you to see baby's movements and facial expressions, such as: yawning, smiling and sleeping, all within the comfort of our relaxing spa themed scanning lounge.
If you live in the Bolton area and want to find out more about our pregnancy scanning services, you can get in touch by calling 01257 249089.
2D & 3D/4D Baby Scan Packages
Choose an ultrasound scan package to start your journey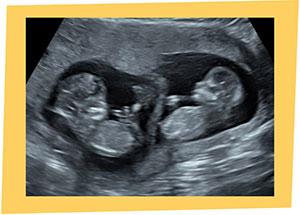 Sneak-A-Peek!
2D Baby Scan
£45
From 10 weeks
Scan room time: 10 minutes
Full bladder: Required
Includes: 1 2D printed photo
Gender: From 16 weeks for £10
Important notice
Gender from 16 Weeks: Gender identification can be added to any 3D/4D scan package from 16 weeks onwards at additional cost of £10. Please note that this is subject to baby being in the correct position at the time of your scan.
Twins: An additional charge of £25 will be added to the chosen package to cover the extra time required for our Ultrasound Technician to perform your scan.
* Anterior Placenta: If you have an Anterior Placenta we recommend you have a scan no later than 26 weeks. Your Placenta gets bigger and thicker further along into pregnancy which is why we recommend these time scales to give us the best chance of getting around the Placenta.
Take a look at the AMAZING quality images we've captured for our clients
Take a look at our stunning boutique!
Sit back and relax from the comfort of our spacious and luxurious 1840's regency terraced building.
With its tall ceilings, original period features and large hanging chandeliers (dangling from the building's original rose ceiling crowns) – our Chorley boutique is a very special place for you to have your baby scan.